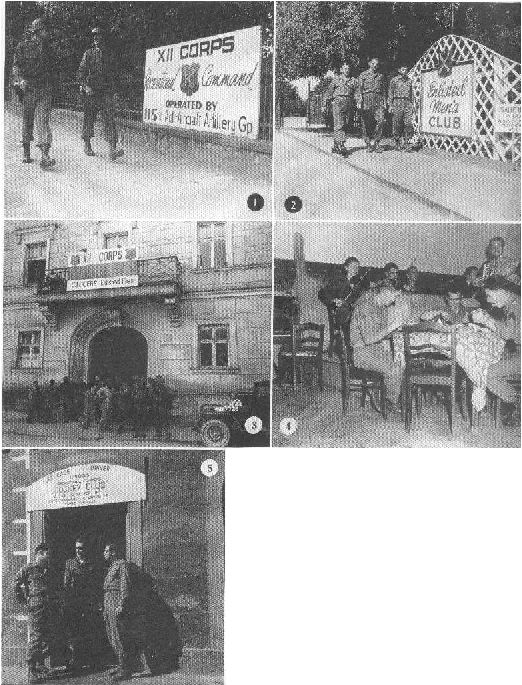 XII CORPS RECREATIONAL COMMAND: SET UP TO BE HOST TO
(1) Walking by the sign designating their headquarters as host for XII Corps' visitors, are Lt Col Norman K. Williams, Comma
nding Officer and Capt William F. Bolen, executive of the command, Summer 1945, at Regensburg, Bavaria. (2) Three members of XII
Corps who operate the enlisted men's club at the Corps Recreational Command are: Pfc Ray J. Smith; T/4 Julius C. Allbritton; Pfc Willie
C. Ellis; the first and last are with the 456th Anti Aircraft Artillery (Automatic Weapons) Battalion: Allbritton is with the 90th Infantry
Division. (3) GI's crowd around entrance to XII Corps Transient Billets in Regensburg, at which personnel from all commands may stay.
(4) Transient mess serves as many as 1000 troops a day, and does it to music: Cpl William C. West of 456th AAA Battalion; Pfc Hugo
Trinciente with Headquarters Company, XII Corps; and Cpl William Waddell of 456th AAA Battalion. (5) "Jockey Club" serves coffee,
doughnuts, and beer to drivers awaiting assignment: men who maintain the club are: T/4 William P. Hyde, T/5 Herbert Proctor, and Pvt
Joseph Bivona, all members of the 154th Anti Aircraft Artillery Battalion.