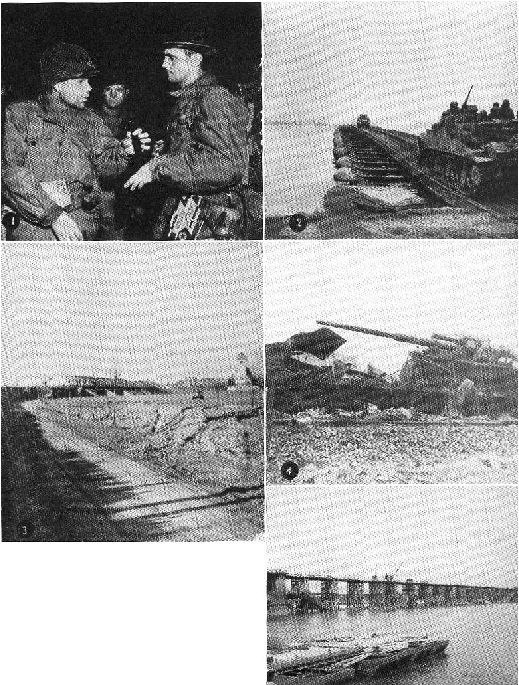 ALWAYS "ONE MORE RIVER TO CROSS" FOR XII CORPS:
AFTER THE RHINE CAME THE MAIN
(1) Getting ready to make the night assault across the Main River at Muhlheim, between Frankfurt and Hanau, Captain Charles W Watson,
commanding Company A, 358th Infantry Regiment, 90th Infantry Division checks his communications before shoving off. 28 March 45.
(This is a Signal Company infrared photo). (2) XII Corps got a ponton across near Hanau, and here are vehicles of the 22nd Armored Field
Artillery Battalion, 4 th Armored Division rolling ever eastward. 28 March. (3) the Krauts kept heavy interdictory artillery fire on a
railroad bridge captured intact at Hanau: an 88 mm airburst appears over it in this picture. (4) This was part of our trouble at Hanau. MP
Joseph Gricewich with the 4th Armored Division stands near a knocked out German railroad gun near Hanau. 28 March. (5)... and the next
day, back on the Rhine, the 1303rd Engineer General Service Regiment was already starting work on this military fixed bridge on the site
of the demolished highway bridge at Mainz, to relieve XII Corps overworked pontons.