William Leonard "Pappy" Faulk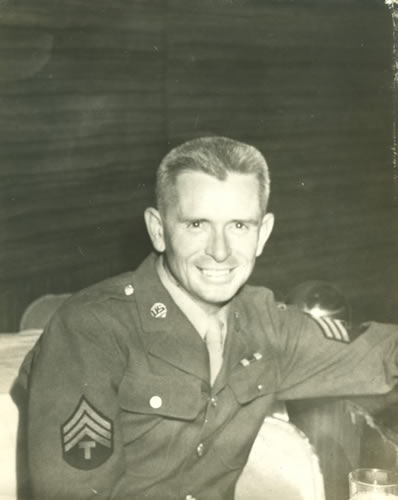 William Leonard Faulk aka Pappy was born in Fort Worth, Texas, May 16, 1910. He grew up in Athens, Texas and Garrison, Texas. When he was a little boy, he took a great interest in photographing everything that would sit still long enough for him to get a picture. He took lots of photos of his cat and chickens and his very favorite bird dogs. There are dozens of photos of just his dogs from his early years.

Leonard trained the dogs himself and they were extremely fine hunting dogs. One of these dogs, by the name of Queenie, became rabid and bit his father. He then had to drive his father from Garrison to Austin so he could receive rabies shots. Leonard was 10 years old at the time. Remember, this was approximately 1920.

He did such a good job of driving that his father allowed him to drive one of the Chryslers to school each day. When he misbehaved he had to ride a horse. As they were all green broke, and fond of pitching you off if at all possible, bad behavior wasn't usually a problem.

When Leonard was about 5 years old his mother had him take piano lessons.
He had to practice one hour each day, seven days a week. This was the foundation for his later musical accomplishments. He took lessons for 10 years.

His father managed the brick yard in Garrison, TX and Leonard was friendly with all the employees. When the weather was warm the African Americans that worked at the brick yard would have barbecues on Saturday nights. Many of them were very talented and Leonard would go and join in all the music. He learned to play the clarinet there, which during the depression, kept him in funds. Before the war, Leonard spent time in Los Angeles and played in many of the bands in the area. He was an extremely gifted musician, and could play virtually any instrument.

Leonard married Eva Coker August 3, 1941. This was the same time that WWII was disrupting the world. Men started enlisting in the Army and Leonard tried to enlist two or three times before they would take him. The army didn't want him because he was too old. This changed as more and more men were needed and on 9 March1942 he was inducted into the Army. He trained at Camp Barkeley near Abilene, Texas as part of the 90th Infantry Division.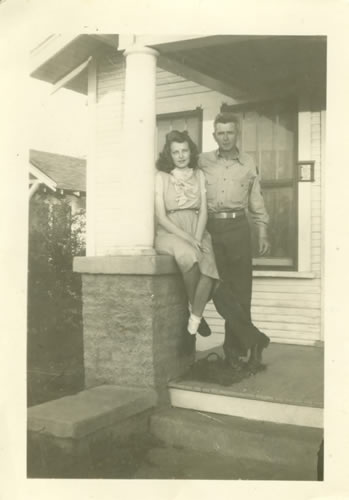 When Leonard was (dispatched) via train to Fort Dix, New Jersey, the train had to stop in Athens, Texas for water. This is where he and Eva lived. She had just given birth to their first son. His mother and father brought the baby to the train and he was passed down the train to Leonard to see for a few minutes before it had to leave. No one was allowed on or off the train.

Troops were sent over seas on large ships. Many soldiers were sick during the duration of the crossing. Leonard was not. No sign of sea sickness bothered him at all.

Leonard was nick named Pappy because he was older than most and already had gray hair. He was called this throughout the war. He was in the first platoon to go all the way across Germany. They were stringing communication wire. His dexterity as a musician served him well as a radio operator for the 357th AT Co. When they would come under fire, as all soldiers did, they would dig a fox hole. Every now and then he would feel the hair on the back of his neck stand up and he felt compelled to leave that hole and dig another one. Men who used his abandoned hole didn't usually live to tell about it. After this happened a few times, everyone paid attention and when a new recruit would come in and think he would get out of digging a fox hole, he wouldn't be allowed to get away with it. The guys would drag him out of it, help him dig another one, and tell him to watch and see what happened. Respect for instincts was born.

Leonard rode in a jeep all over Europe. This enabled him to take photos and be able to keep the film. All that photography as a kid paid off. He took over 500 photographs on his journey. He got together with Otis L. Matthews, one of his jeep buddies, in the early 1970's and wrote on the back of them; people's names and locations where they were taken.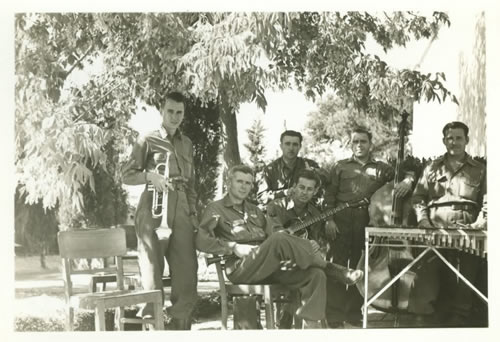 While waiting for his discharge papers at the end of the war, Leonard played with the USO band, 66th Div band, all over Europe. He continued to play in bands after returning to the states.

After the war, Leonard returned to Athens, Texas and Eva. They had two more children. He found work in the printing business and this would be his occupation for the rest of his life. Once again, his dexterity made him indispensable. He worked for the Athens Daily Review and owned a printing shop in Athens and the Mabank Banner newspaper in Mabank, Texas. He eventually became a Linotype operator for the Dallas Morning News. He died in 1983 at his home in Athens.
---