Change of Command at the 90th Regional Readiness Command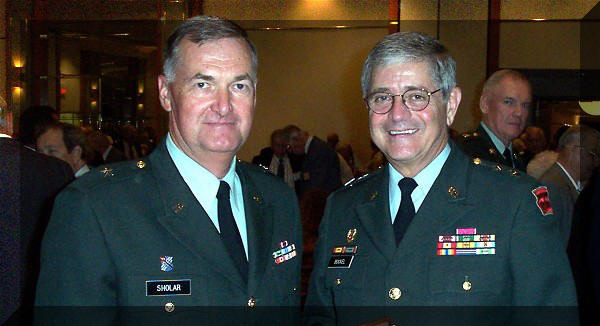 l-r. Incoming 90th RSC Commander, BG Ron Sholar and Retiring 90th RSC Commander, MG General David Bockel
Brigadier General Ron Sholar has been selected to succeed Major General David Bockel as commander of the 90th Regional Readiness Command. Major General Bockel who has led the 17000 soldier RRC for the past 4 years will complete a 37 year Army career in June. Brigadier General Sholar has been Deputy Commander of the 90th RSC since April 2000.
General Sholar began his career more than 30 years ago as an active duty officer at Ft Sill, OK. Following two years on active duty and prior to joining the 90th, he served in various leadership positions in the 95th Division. In the 95th Division, he commanded at the company, battalion, and brigade levels. He also served tours as Chief of Staff and Assistant Division Commander for Support.
Since joining the 90th, he and his wife Linda have been active with the 90th ID Association. They have participated in the reunions and made a trip to Europe with a group of 90th WWII veterans in 2001. Linda's father was a WWII veteran who served in the 8th Infantry Division during the fighting in Normandy, across France, and into Germany.
General Sholar says that he and Linda plan to continue the relationship that General Bockel and his wife Jane have had with the Association during the past four years.
"We know the great work that General Bockel and Jane have done with the Association and we are grateful to them for the example they have been to us and all the soldiers of the 90th. We know many of the veterans of the 90th and we look forward to the next four years."
"Obviously, we are extremely pleased to be staying with the 90th," said Sholar.
The change of command ceremony was held June 21st at the North Little Rock, AR headquarters of the 90th. The ceremony will be conducted by Lietenant General James R. Helmly, Commander, US Army Reserve Command.
The Sholar's live in Stillwater, OK where he is a Professor at Oklahoma State University and Linda is a teacher in the Stillwater Public Schools. They have two grown children, two granddaughters, and a son-in-law.

The 90th Division Association congratulates Brigadier General Sholar in his new appointment to command the 90th RRC and we look forward to working with him in the coming years.
A great debt of gratitude is owed to Major General Bockel for his dedicated work on behalf of the 90th Division and all of its Tough Ombres. We all wish him well in his retirement and hope to see him at future reunions.